What if you and your entire customer-facing organization were able to:
Systematically do flawless discovery and qualification, therefore understanding your customer better than your competition?
Map your solution to the specific needs of the customer?
Create so much value in your customers' minds that they want your solution no matter what the price?
Become comfortable and confident asking the "hard" questions?
Build profound relationships in days/weeks instead of months/quarters?
What if your first-line managers were able to:
Develop their coaching skills quickly?
Gain the skills and tracking tools to set up every deal to win?
Eliminate surprises and reduce risk in every deal?
What if true sales transformation allowed you to:
Consistently and predictably overachieve revenue goals?
Increase your win rate?
Reduce discounting?
Increase average deal size?
Dramatically reduce your sales-cycle?
Reduce your team's ramp-time?
Get more reps hitting quota?
What if you could learn in days or weeks what it's taken the giants of the sales world years to master?
I look forward to seeing how we might take your sales organization to the next level!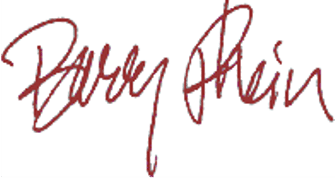 Barry Rhein, Founder
Barry Rhein & Associates